Past Exhibition
EARLY CHINESE WHITE WARES
The Ronald W. Longsdorf Collection
September 11 - October 3, 2015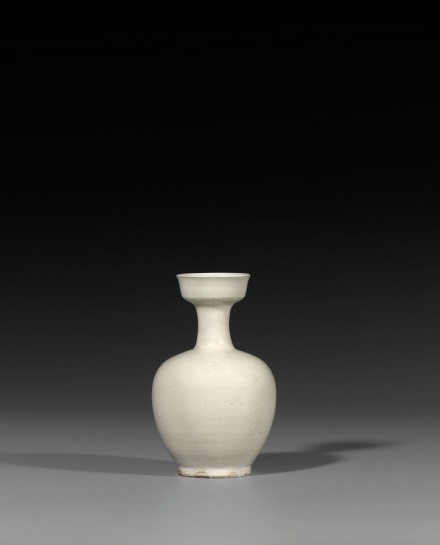 8.
A MINIATURE VASE
Late Tang Dynasty-Five Dynasties, A.D. 9th -10th Century
Ding type
the rounded ovoid vessel with tall slender cylindrical neck rising to a cup-shaped mouth with crisply finished slightly flaring lip, covered inside and out with a glossy transparent glaze ending unevenly around the edge of the solid circular foot, the flat base with very slightly recessed center left unglazed revealing the dry white porcelain.
Height 4 inches (10.2 cm)
Compare the miniature white porcelain vase with tall neck and dish-shaped mouth formerly in the Kempe Collection, illustrated by Gyllensvärd, Chinese Ceramics in the Carl Kempe Collection, Stockholm, 1964, p. 102, no. 294, described as Tang dynasty "Hsing yao found at Ch'ing-ho hsien," east of Xingtai city in Hebei province.
晚唐-五代 定窰系白瓷小瓶 高 10.2 厘米
8.
A MINIATURE VASE
Late Tang Dynasty-Five Dynasties, A.D. 9th -10th Century
Ding type
Height 4 inches (10.2 cm)